Written by Dr. Laurie...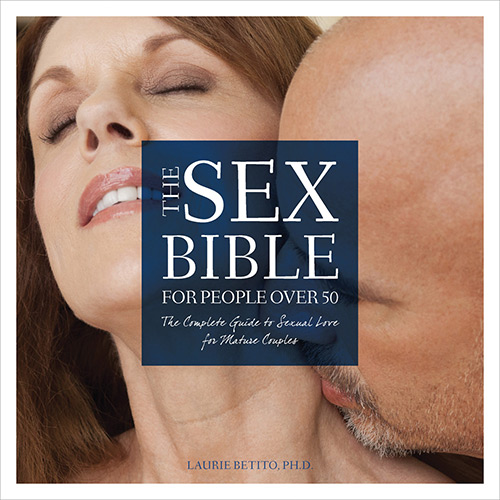 The Sex Bible For People Over 50: The Complete Guide To Sexual Love For Mature Couples
Sex post-50 can be the best ever but it requires a different skill-set -- more communication, longer foreplay, different positions, sexual toys and aids -- to stay hot and exciting. It also needs to accommodate the myriad of physical, emotional, and social changes that happen in late middle-age. Author Dr. Laurie Betito gives readers techniques for reconnecting with their partners, bringing experimentation in long-term sexual relationships, and tips on how to handle sex and dating post-50. The Sex Bible For People Over 50 addresses common physical and sexual issues that 50+ couples encounter and provides tips and solutions that are fun and exciting such as modified positions or the use of sexual toys and aids. It also shows readers how to build new sexual skills by providing exercises and new ways to enjoy sexual pleasure on their own and with their partner.
Purchase the book now at Indigo bookstores, Amazon.com, or purchase the e-book version by clicking here.
Dr. Laurie's Bookshelf
Some of these authors have appeared on Dr. Laurie's radio show Passion, and are recommended.
Sexual Intelligence
Dr. Marty Klein.  
The Nine Phases of Marriage: How to Make it, Break it, Keep it
Susan Shapiro Barash           
Penis Power: The Ultimate Guide to Male Sexual Health
Dr. Dudley Seth Danoff.
What's Wrong with My Family?
Dr. Gary Malone and Susan Malone.
Hot Sex Tips, Tricks, and Licks: Sizzling Touch and Tongue Techniques for Amazing Oorgasms 
Dr. Jessica O'Reilly  
Anatomy of Arousal: Secret Maps to Buried Pleasure
Sheri Winston 
You Can be Rright (or You Can Be Married)
Dana Adam Shapiro
Great Sex Naturally
Dr. Laurie Steelsmith and Alex Steelsmith
The Manhattan Madam's Secrets to Great Sex
Kristin Davis
Happy Bitch
Keryl Pesce 
Making Marriage Work
Judge Lynn Toler
The 10 conversations You Must Have Before You Get Married (and How To Have Them)
Dr. Guy Grenier
Sex With A Married Woman: A Man's Guide to Loving his Wife
Robert M. Alter
Naked At Our Age: Talking Out Loud About Senior Sex
Joan Price 
The Lovin' Ain't Over for Women with Cancer
Intimacy with Impotence - The Couple's Guide to Better Sex After Prostate Disease
Ralph and Barbara Alterowitz 
The Science of Relationships: Answers to your Questions about Dating, Marriage and Family
Website
Dirty Minds: How Our Brains Influence Love, Sex and Relationships
Kayt Sukel
A Couple's Guide to Sexual Addiction
Paldrom Catharine Collins and George Collins
Not Under My Roof: Parents, Teens and the Culture of Sex
Amy Schalet 
How to Get a Married Woman to Have Sex With You...If You're Her Husband
Stephan Labossiere
Big Big Love
Hanne Blank 
Erotic Marriage
Dr. Frederick Mondin
Dealing with Addiction: Why the 20th Century Was Wrong
Dr. Peter Ferentzy
The Intelligent Divorce
Dr. Mark Robert Banschick
Splitting: Protecting Yourself While Divorcing Someone with Borderline or Narcissistic Personality Disorder
Bill Eddy and Randi Kreger
Divine Sexuality: The Joy of Tantra
Mahasatvaa Ma Ananda Sarita
Your Daughter's Bedroom: Insights for Raising Confident Women
Joyce McFadden
Intimacy after Infidelity
Steve Solomon and Lorie Teagno
The Porn Trap: The Essential Guide to Overcoming Problems Caused by Pornography
Wendy and Larry Maltz
When Big Issues Happen to Little Girls
Erin Munroe
I'll Show You Mine
Edited by Wrenna Robertson
Sex, Love, and Mental Illness: A Couple's Guide to Staying Connected
Stephanie Buehler
Love on the Menu: Sensual Recipes to Spice Up Your Romantic Evenings
Linda Arsenault, et.al.
How Do I Love Me? Let Me Count the Ways
Daylle Deanna Schwartz  
99 Things Parents Wish They Knew Before Having the Sex Talk
Chris Fariello and Pierre-Paul Tellier
Project: Happily Ever After - Saving Your Marriage When the Fairytale Falters
Alisa Bowman
Stop calling him honey...and start having sex!: How changing your everyday habits will make you hot for each other all over again
by Maggie Arana and Julienne Davis
Fight Less, Love More: 5-Minute Conversations to Change Your Relationship Without Bblowing Up or Giving In
Laurie Puhn, JD
Womenopause: Stop Pausing and Start Living
Dr. Lovera Wolf Miller and Dr. David Wolf
Emotional Freedom: Liberate Yourself From Negative Emotions and Transform your Life
Dr. Judith Orloff
100 Questions & Answers for Women Living with Cancer
Dr. Michael Krychman
Women Who Love Sex / The Heart and Soul of Sex / The Return of Desire
Dr. Gina Ogden
A Tired Woman's Guide to Passionate Sex
Dr. Laurie Mintz  
Being the Strong Man a Woman Wants: Timeless Wisdom on Being a Man
Elliot Katz 
The Eye of the Seductress: A Workbook for Women to Learn About the Emotional Needs of Men
Frank B. Kermit
Relationships From Addiction to Authenticity: Understanding Co-sex Addiction
Claudinee Pletcher and Sally Bartolameolli

The Ultimate Guide to Sex and Disability
Miriam Kaufman, Cory Silverberg, and Fran Odette  
101 Sexy Dares
Laura Corn
Astrology of Great Sex
Myrna Lamb
Sexography
A woman's sexual journey and enlightenment: a great read for anyone, and especially for those who have suffered sexual trauma
Carly Milne
Mating in Captivity: Unlocking Erotic Intelligence
An important book about desire, intimacy and sex in couples
Esther Perel
What's the Big Secret?
This book is my favorite one for kids dealing with sexuality
Marc Brown